The Lac La Biche Mission Cemetery has been in use since 1855. There are still plots available. The Cemetery is managed by a group of volunteers.
Plots can be 1 casket, casket & urn or 2 urns (side by side).
Single plots are $300 each (no refunds) , dual is $300 + $150 for urn.
Each casket will need a vault made of concrete or fiberglass.
Plots can be bought at any number does not have to be consecutive.
Monuments on cement measurements are to be no more than 42″ width, 16″ deep, 24″ high.
"Say not in grief that they are no more, but say in thankfulness that they were."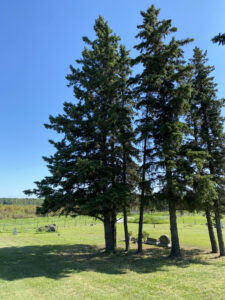 .